We are going to Brazil!
Wo
spielen wir ? UFF!
--- (Und gegen wen?!?! -- DOPPEL-UFF!!)
NBC Sports
Venue Guide: Check out where the USA will play at 2014 World Cup in Brazil
With all the excitement of the World Cup draw last Friday for Brazil 2014, now seems like a good time to take a closer look at the cities and stadiums the U.S. national team will play in next summer.
As we all know, Jurgen Klinsmann's side were handed and incredibly tough draw In Group G with Germany, Portugal and Ghana standing in their way of making it to the knockout stages. Ahem, 'Group of Death'…
But what many have overlooked is the fact that in the group stages the USA will play in three of the four most Northern cities hosting games in the World Cup, which means unbearable heat, incredible humidity and will put plenty of extra strain on the players bodies as they play three games in 10 days.
FULL WORLD CUP DRAW ARCHIVE FROM PROSOCCERTALK
So, from the Amazon to the North East coastal resorts, here's a look at what cities fans of the USMNT will be visiting if they're lucky enough to be heading to South America to cheer on the Yanks. Plus, we take a cheeky look at the venues the USA may play at in the knockout stages, if they make it out of the dreaded 'Group of Death.'
Warning: take plenty of sun block… and a hat.
NATAL – 16 June, 6pm ET: Ghana v USA
City
: In the far North East of Brazil, a tropical climate awaits the USA (that will be a running theme here) as Natal enjoys over 300 days of sunshine per year and is known as 'Sun City' in Brazil. Heavy European influence adorns the buildings and architecture of the city and tourism plays a big part in the local economy due to wonders such as Ponta Negra, Genipabu, Redinha, Pipa, Pirangi and the fabulous beaches along the coast. This area has struggled for any domestic soccer success for quite some time as fierce rivals America Futebol Clube and ABC Futebol Clube have both struggled since the 1980′s.
Stadium
: The Estadio das Dunas has been newly constructed and it's fantastic curving shape emulates the sand dunes Natal is famous for. A capacity of over 42,086 means it's the smallest stadium at the World Cup. Could prove difficult to get tickets for this one.
MANAUS - 22 June, 6pm ET: USA v Portugal
City
: One of the most spectacular, yet problematic, venues in World Cup history, the Amazonian capital of Manaus is host to the USA's game against Cristiano Ronaldo's Portugal. Humidity around the 99 percent mark is likely to greet the USMNT, as well as heat in excess of 100 degrees in the heart of the Amazon rainforest but plenty of stunning sights, such as the convergence of the Negro and Amazon rivers, will make a trip to Manaus a one in a life-time experience. The most northern venue
boasts quite a poor crime-record
, so be on your guard.
Stadium
: There are plenty of concerns over the heat and conditions deep in the world's largest rainforest, as the kick off time has been moved backwards, but what a stadium they've built to welcome the world into the Amazon. Huge interwoven rafters mimics the wooden baskets this region is now far, but once again the capacity is only just over 42,000 so the USA will be playing in another of Brazil's smallest host stadiums.
RECIFE – 26 June, 12pm ET: USA v Germany
City
: Just down the coast from Natal, Recife is the state capital of Pernambuco and the fourth largest metropolitan area in Brazil. The gorgeous beaches close to urban areas makes this city unique and a heavy Dutch influence from the 16th century can be found amongst the architecture. Just like Natal and Manaus, this sprawling Northern city also enjoys searing temperatures and the USA's noon kick off time vs. Germany may actually play in their favor. Well, at least more of the USMNT's players will be used to playing in hot conditions compared to the Germans.
Stadium
: Built through public and private funding, the stadium is now home to Clube Nautico Capibaribe, one of Recife's three professional teams. With a capacity of 46,154, again it's not the biggest stadium in Brazil but there's sure to be a terrific atmosphere in the 'capital of the North-east' when the U.S. face Germany in their pivotal last group game. The stadium itself is located outside of the city proper and close to the region known as Grande Recife where huge poverty affects the local people, but this venue has regenerated the area by offering shops, jobs and other businesses to locals.
USA's potential venues in knockout stages
Last 16
: Porto Alegre on June 30
or
Salvador on July 1
Quarterfinal
: Rio de Janiero on July 4
or
Brasilia on July 5
Semifinal
: Belo Horizonte on July 8
or
Sao Paulo on July 8
3/4 place game:
Brasilia on July 12
Final
: Maracana Stadium, Rio de Janiero on July 13
Wer spielt für uns?
American Top 30: Projecting Klinsmann's 2014 World Cup roster, 17th ed
June 2:

FIFA deadline to submit 23-man World Cup roster.

June 7

: Nigeria friendly in

Jacksonville. June 8

: Team flight to Sao Paulo.

June 16: Group G opener against Ghana in Natal, Brazil.

*********************

Changes from last week: Maurice Edu overtakes Mix Diskerud in midfield. Terrence Boyd rejoins the 30, DeAndre Yedlin drops out. Movement among the midfield and defensive contenders. Of note

:

Check marks indicate my picks for the final roster.

"Contenders" are my leading candidates for the 23-man list (+ 7 contenders, for 30-man list).

Players not mentioned could re-enter the mix at any time in the coming weeks.

As it stands, I am projecting 14 MLS players, eight European-based players and one Mexican-based player on the flight to Brazil.

GOALKEEPERS 3




√

Tim Howard (Everton)

: 90 minutes in 2-0 victory over Man-U. Next: at Southampton Sat.

√

Brad Guzan (Aston Villa)

: 90 in 0-0 draw with Southampton. Next: at Swansea City on Saturday.

√

Nick Rimando (Real Salt Lake)

: 90 in 1-0 victory over Portland. Next: Vancouver on Saturday.

DEFENDERS 8




√CB

Matt Besler (Sporting Kansas City)

: 90 in 4-0 victory over Montreal. Next: REVs. Sat.

√RB-CB

Geoff Cameron (Stoke City)

: 90 in 1-1 draw at Cardiff City. Next: at Tottenham, Sat.

√LB-RB-LMF Fabian Johnson (Hoffenheim): 90 in 3-1 loss at Werder Bremen. Next: Eintracht Frankfurt on Sat.

√CB

Omar Gonzalez (Los Angeles Galaxy)

: 90 in 2-2 draw at Vancouver. Next: at Colorado on May 3.

√CB

Clarence Goodson (San Jose Earthquakes)

: 90 in 0-0 draw at Colorado. Next: Chivas USA on Sat.

√LB-LMF

DaMarcus Beasley (Puebla)

: 1st 40

(injured)

in 2-1 victory at Pachuca. Next: Morelia on Sun.

√RB-DMF

Brad Evans (Seattle Sounders)

: last 23 in 2-1 victory at Chivas USA. Next: Colorado on Saturday.

√LB-RB

Michael Parkhurst (Columbus Crew)

: 90 in 1-1 draw with D.C. United. Next: NY on Sat.

— Contenders —




↑CB

Tim Ream (Bolton)

: 90 in 0-0 draw at Charlton. Next: Leicester City on Tues., Sheffield W. on Sat.

↓CB Michael Orozco

(Puebla)

:

not in the 18 (leg injury) for 2-1 victory at Pachuca. Next: Morelia on Sunday.

MIDFIELDERS 8




√DMF-CMF

Michael Bradley (Toronto FC)

: 90 in 2-1 loss at Dallas. Next: REVs. on May 3.

√CMF-F-RMF

Clint Dempsey (Seattle Sounders)

: 90

(assist)

in 2-1 victory at Chivas USA. Next: CO on Sat.

√RMF

Graham Zusi (Sporting Kansas City)

: 90

(assist)

in 4-0 victory over Montreal. Next: REVs. on Sat.

√DMF

Jermaine Jones (Besiktas)

: 90 in 1-1 draw with Fenerbahce. Next: Sivasspor on Sun.

√LMF-CMF-RMF-F

Landon Donovan (LA Galaxy)

: 90 in 2-2 draw at Vancouver. Next: at CO, May 3.

√DMF

Kyle Beckerman (Real Salt Lake)

: 90 in 1-0 victory over Portland. Next: Vancouver on Sat.

√RMF-CMF

Alejandro Bedoya (Nantes)

: 90

(goal in 31st)

in 6-2 victory at Valenciennes. Next: Marseille on Fri.

√↑DMF

Maurice Edu (Phila.Union)

: 90 in 0-0 draw with Houston. Next: at Montreal on Saturday.

— Contenders —




↓CMF

Mikkel Diskerud (Rosenborg)

: no match scheduled. Next: at Bodo/Blimt on Monday, at Orkla in Norwegian Cup on Thursday, Brann on Sunday.

LMF-F Julian Green (Bayern Munich II): no match scheduled. Next: at Rain Lech on Sat.

↑RMF-LMF

Joe Corona (Tijuana)

: 7 in 2-1 victory at Atlante. Next: Leon on Friday.

↓LMF

Brad Davis (Houston Dynamo)

:

not in the 18 (ankle injury) for 0-0 draw at Phila.

Next: NY Wed; Portland Sun.

FORWARDS 4




√F

Jozy Altidore (Sunderland)

: 24 (drew controversial late PK;

video

) in 2-1 victory at Chelsea. Next: Cardiff City on Sun.

√F-LMF

Aron Johannsson (AZ Alkmaar)

: no match scheduled. Next: at Den Haag on Sunday.

√F-LMF

Eddie Johnson (D.C. United)

: 76 in 1-1 draw at Columbus. Next: Dallas on Saturday.

√F

Chris Wondolowski (San Jose Earthquakes)

: 90 in 0-0 draw at Colorado. Next: Chivas USA on Sat.

– Contenders –




↑F Terrence Boyd (Rapid Vienna): 90 (goals in 24th and 43rd) in 2-2 draw at Groedig. Next: Red Bull Salzburg on Sat. (11 goals in 26 league matches, 16 in 34 overall) UND JETZT IST AUCH BÖÖRTI VOGTS ALS USA-TRAINER mit dabei. Wer ist er? SCHAU MAL ZU!

Lustig von Stefan Raab? Wie immer. Und auch erfolgreich.

So aber auch ist Hans Hubert Vogts. Wer ist er denn? Er kommt aus Kaarst -- nahe Düsseldorf. Gibt es noch was? Ja, und wie! Das ist wirklich noch etwas für uns herauszufinden.
Jurgen Klinsmann Discusses USMNT Changes Surrounding Berti Vogts, Martin Vasquez
Jurgen Klinsmann has appointed former Germany, Scotland and Nigeria head coach Berti Vogts as Special Advisor for the United States' men's national team, further altering the nation's backroom staff after dropping Martin Vasquez from his assistant role.
Sports Illustrated
's Grant Wahl revealed the news on Twitter:
USMNT assistant Martín Vásquez being reassigned within USSF. Berti Vogts hired as adviser, Tab Ramos working with senior team.
Klinsmann revealed his delight at linking up with Vogts once again, the manager he played under when Germany captured the Euro '96 championship, as reported by
USsoccer.com
:
We are absolutely thrilled to have Berti join us as an advisor. He brings a wealth of knowledge and experience, both as a player and a coach, and he knows what it takes to succeed at the highest level. He was my coach for Germany in the 1990s and we have a great relationship.




Through his time as the head coach of Scotland, Nigeria and Azerbaijan, he is obviously very familiar with our opponents in the group stage of the World Cup, and for us this is a huge bonus.



USA Under-20's overseer Tab Ramos has also been promoted to the senior coaching staff, while Martin Vasquez moves across toward other duties within the United States Soccer Federation. Klinsmann believes such change provides the nation "with the best opportunity to be successful," per USsoccer.com's report.
Vogts' appointment could prove to be a real coup for the U.S., who have tied up another German legend until after the 2014 FIFA World Cup. The 67-year-old won the 1974 tournament with West Germany and totted up five Bundesliga titles with Borussia Monchengladbach during his playing days. UEFA Cup wins in '75 and '79 also sum up a successful career on the pitch.
Klinsmann has hired Vogts to scout opponents and develop training regimes in a key role for the U.S. Despite his Euro '96 success with Germany, Vogts' international tenures with Kuwait, Scotland, Nigeria and Azerbaijan have been riddled with frustration.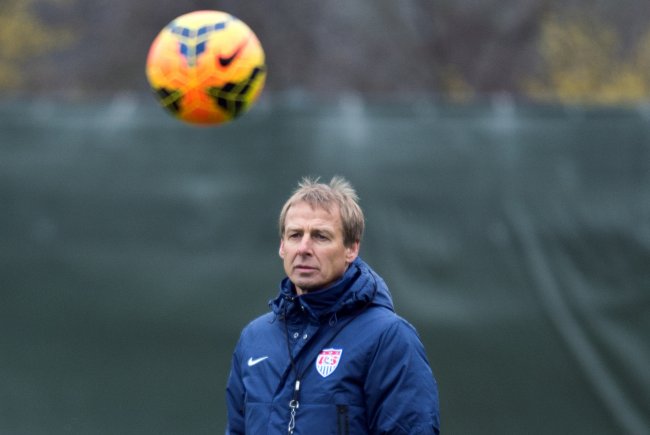 Boris Roessler
He will continue to serve as Azerbaijan manager even after agreeing to the U.S. role. Vogts' team have little action to look forward to across the summer after failing to qualify for the competition, ensuring his jobs won't clash.
The upcoming World Cup puts both Klinsmann and Vogts in the strange position of facing their country of birth while representing the U.S. Vogts is sure to have a detailed knowledge of happenings inside the German camp and may be able to call upon his experience with DFB to inspire a positive result for the USMNT.
Matthew Tomaszewicz of
The Guardian
outlined Vogts' recent experience against the country's World Cup opponents as a key to his appointment:
It seems everything has slotted into place for this deal to go ahead. Klinsmann and Vogts' previous relationship was a winning one, highlighting that they can work well together against difficult odds. Although the USA aren't expected to challenge for the trophy in Brazil, Vogts' scouting duties provide Klinsmann with the chance to focus on his players and strategy.
Both the U.S. team and staff can head into the World Cup with a fearless outlook in a group that includes Germany, Portugal and Ghana. These are tough matches that could yield little to shout about for the Americans, but with Klinsmann and Vogts leading the charge, there's enough experience here to challenge in each encounter.
Matthew Tomaszewicz
@shinguardian
To those that missed, Vogts coached against both Portugal & Germany (twice) in this last cycle with Azerbaijan.