The North American debut of the BMW i8 Spyder hybrid roadster concept, the world debut of the Mercedes-Benz SLS AMG Black Series, and another hotly-rumored world debut slated from Porsche as well as the North American debut of the
911 Carrera 4 are highly anticipated.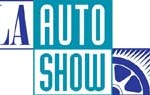 The Los Angeles Auto Show confirmed on November 12, 2012 that nearly 50 vehicles will debut at the show Nov. 28-29 when it opens for Press Days and Nov. 30-Dec. 9 for the public.
Just two weeks away, the show will feature world debuts ranging from electric vehicles to performance and luxury designs from a global array of the world's top automakers.
The number of debuts and strong representation from the world's key auto manufacturing regions underscore both the rebounding strength of the industry as well as the importance of the Show as a launch venue.